Our MOA® Sing-Off Emcee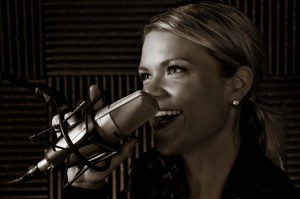 Kelly Jackson: Master of Ceremonies
A born performer, Kelly Jackson has been singing and dancing most of her life. She was just three years old when she took her first dance class and she didn't stop until she became an instructor at that same dance studio.
She was a member of the Elk River High School dance team for four years, was awarded Individual All Conference Dancer each year, and voted team captain her senior year.
After graduating from high school, Kelly was one of the cast members chosen from 5000 applicants to perform internationally in Up With People, a Broadway-style play.
Kelly is an avid sports fan and was able to combine that passion with singing and dancing as a Minnesota Vikings cheerleader for four years and a member of the Minnesota Swarm dance team for two years.
As a Vikings cheerleader, she choreographed, sang and danced in game day performances and other public events, in addition to making more than 50 than individual appearances each year. One of Kelly's greatest honors was performing for American troops in Iraq. Back on U. S. soil, had the privilege of singing the National Anthem at Minnesota Wild home games, and multiple times for every other professional team in Minnesota.
Kelly earned a Bachelor of Science degree in education from St. Cloud State University and is employed as licensed medical esthetician. In her free time Kelly enjoys her family and friends, singing with the Basilica of Saint Mary choir and going "up north."